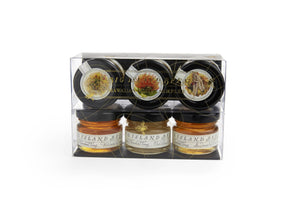 Big Island Bees
Hawaiian Honey Sets - Mini 3pk
Regular price
$16.00
$0.00
Unit price
per
 compact, beautifully adorned box of three types of single-floral Hawaiian honey is perfect as a hostess gift
Mini (1 oz) honey jars 
a beautifully illustrated blossom by noted artist Dugald Stermer adorning the top of each jar; each illustration representing the unique flower blossom of each of our single floral Hawaiian honey varieties.
 Ohia Lehua honey is a white, smoothly crystallized honey with a delicate, distinct flavor and spreadable texture.
Wilelaiki honey is ambrosial with a subtle spicy flavor, liquid texture, and light amber color.
Macadamia Nut honey has a rich floral and nutty flavor, dark amber color, and velvety liquid texture.
---